Nikki & Ken Merchut – Owners, Artistic Director
NIKKI MERCHUT began her journey and passion for dance at the age of 3. By the age of 6 she was training as a competitive dancer, attending conventions and competitions on the east coast. In 2012 Nikki fulfilled her love for modern and contemporary dance by graduating with a Bachelor's Degree in Dance Education and Composition from Bowling Green State University. In 2011 Nikki took advantage of training and studying with Unity Dance Ensemble in San Diego under the direction of Tessandra Chavez. The same year she had the opportunity to work under Charlotte Boye-Christensen, artistic director of Ririe-Woodbury Modern Dance Company in Salt Lake City. In 2012 Nikki moved from Ohio to Illinois, accepting the offer to become the director of a local dance company where she built a dance program and company from the ground up.
June 2016 Nikki and Ken tied the knot and shortly after their Honeymoon were opened up to the opportunity to purchase Momentum Performing Arts – Park Ridge. The lifelong dream of owning a dance studio became real in December 2016 when the Merchut's officially became owners and have now had the opportunity to create a beautiful environment and program for dancers in the Niles area. They are looking forward to creating a pre-professional program for dancers of all ages with emphasis on performance and making a space in which all the MPA dancers feel welcome.
---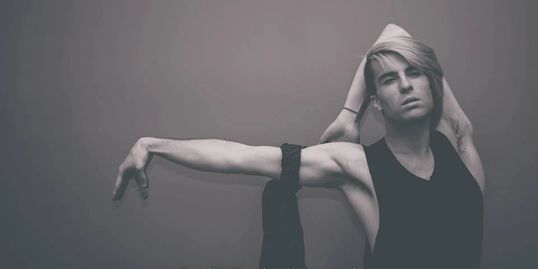 JONNY BASTEK began his dance training at the age of 16 at TranscenDance Studios in Oak Park. He took strictly hip hop classes at first, but after realizing his passion for dance, he branched out to breakdance and tumbling as well. After taking classes and training under Cait Jones and John Diaz, he joined a competitive dance team and competed for 3 years around the Chicagoland area. Wanting to better himself and gain more experience, he attended many workshops and master classes with top name choreographers in the industry. At the age of 19, he started teaching hip hop and jazz funk classes at TranscenDance Studios, where he still currently teaches all levels and is a contributing choreographer for the hip hop companies that run out of the studio. He has taught at TranscenDance Studios, Longfellow Elementary School, and Mixed Motion Art. He also has experience backup dancing, dancing in small music videos and concept videos, and has been hired for club openings, fashion shows, and a web series.
In November of 2013, he started dancing hip hop professionally with Gifted Souls under the direction of Rocky Quinones. He is currently still with them and is a contributing choreographer for the company as well. He has performed with Gifted Souls numerous times over the years, some notable performances including The Chicago International Salsa Congress (2014, 2015, and 2016), World of Dance, Hip Hop International, The Las Vegas International Salsa Congress, The Midwest Latin Dance Festival, The Chicago Salsa and Bachata Festival, The Orlando International Salsa Congress, and many other events in Chicago, Indianapolis, Milwaukee, Texas, Orlando, and Las Vegas. Over the years of training and dancing, he has found his passion and currently specializes in hip hop, jazz funk, and urban contemporary, but also has breakdance, tumbling, and salsa under his belt as well.
---
Jacqueline Mendoza
Jacqueline grew up on the Northwest side of Chicago where she started dancing the age of 3. Continuing on her dance journey she studied at various Chicago and suburban studios before she eventually started teaching at age 17. Jacqueline decided to take her passion to the next level at Northeastern Illinois University where she focused her studies on Early Childhood Education and graduated with a minor in Dance Education. While attending NEIU she studied ballet, modern, contemporary, performance styles dance compostion, and 3 styles of Spanish dance with Rachel Burton, Venetia Stifler, and Irma Suarez Ruiz. Jacqueline has had the pleasure of teaching for the NEIU Prepratory dance program for 8 years and teaches at several studios in Chicago and suburbs. Jacqueline still takes ballet and of Spanish dance  several times a week because she believes a dancers work is never done, her hope is to impact her students lives as much as her teachers have for her and to make others get excited about dance.
---
Emma Lehtman, Piano Teacher
Proficient in piano performance and passionate about music education, Mr. Lehtman achieved a bachelor's degree in piano pedagogy, performance and concertmaster, music history, and theory in Kiev, Ukraine in 1974. She later went on to achieve a master's degree in piano pedagogy and performance at the State conservatory in Saratov (Russian Federation), witch she graduated in 1979. After immigrating to the US she continued her music education in Verhoog Piano Institute, Evanston, Il. 1989-1994.
In 1974, Ms. Lehtman began working as a piano teacher. In addition to her piano instructions, she served as a piano accompanist for the State Drama Theater in Ukraine and Olympic gymnastics team. Since 1987 Ms. Lethman has taught piano in US. She specializes in teaching adults, conveying to them a love of music. She also offers adult students customized unique learning experiences to enrich their everyday lives. An expert in piano pedagogy and jazz improvisation, Ms. Lehtman teaches students, organizes and aids in rehearsals for piano recitals, and conducts master classes. Many of her students have gone on to achieve amazing things- including one student who became a musical director for a Chicago theater and another student who went on to perform on Broadway.
Ms. Lehtman is a member of NSMTA since 1987, CAMTA since 2011, and Cambridge "Who's Who"